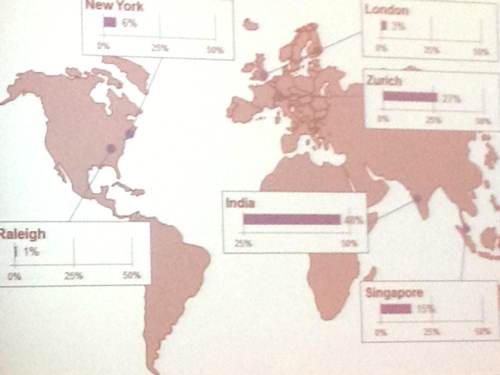 Hey! I'm so powerful, I can change the world
One would like to feel comfortable sprawling in a cushiony illusion that an executive of a test center for a major Swiss bank with 650 testers understands something about software testing.
Not so, as 800 spectators at the
Swiss Testing Day
painfully experienced while listening to the second keynote in utter disbelief about the intensity of bullshit coming from the stage.
The friendly people from the organization of Swiss Testing Day had a recording team ready in the big hall and all presentations - also Lee Copeland's first keynote - are available on
Youtube
. All,
exept one
. Now guess which one that cold be, he?
The Head of Global Testing Services at Credit Suisse did not like to allow his keynote on Youtube. Well, from my perspective, I fully understand. After a ridiculous presentation I wouldn't want to embarrass myself any more, neither.
I wanted to know more and headed to LinkedIn: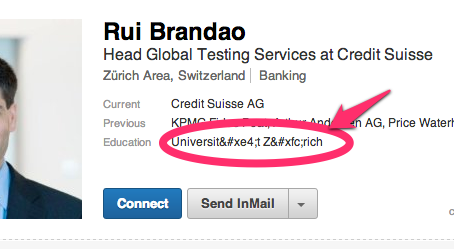 I'm a bit confused, I mean, what is there to swear about one's own education? Maybe digging a bit deeper will enlighten me. Off I went exploring by scrolling down on the LinkedIn profile. That's where I suddenly understood: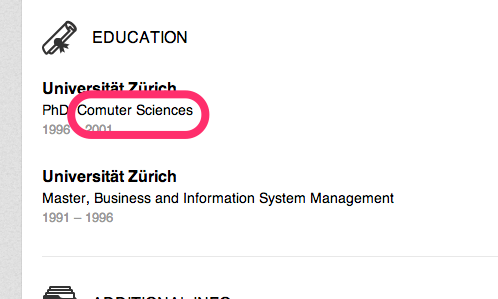 Just a little hint, Mister: It is "commuter" with two "m". Wow! I was not aware that you can do a PhD in Commuter Sciences. Maybe spending a lot of time in overfilled local trains? Well, I don't know, as I am not a specialist in that domain. But apparently it was not very pleasurable as it lead him to swear about his education.
Don't get me wrong. I usually do not ridicule people. But this "Head Global Testing Services at Credit Suisse" is a testosterone-impregnated alpha-male with an overreaching certainty to always be right. He is tough enough to take it. During his presentation he said something in the line of: "Yes, there are many discussions in my team, but at the end I always decide anyway, hehehe".
During the presentation, the many typos in his presentation made me lift one of my eyebrows. Hey, come on, there is auto-correct for the worst of the orthographic glitches. But, no, they all remained in his slide deck, but since the font size usually was very tiny and unreadable anyway, some of the slapdash assembly of text strings might have contained even more embarrassing details. He talked a lot about quality. Isn't that ironic?
Admittedly, typos are not such a big deal. But leading a testing services org of 650 people and outsourcing the hell out of it because "it is cheaper", insisting on worthless certifications and applying a factory model to the whole org is a big deal. Where is the leadership here?
Then he displayed the hockey stick with the bug fixing getting more expensive tenfold in each phase of the development cycle. He really, really was neither interested in presenting verified facts, nor did he make any effort to think for himself. Have a look at Laurent Bossavit's excellent book
"The Leprechauns of Software Engineering"
. Five seconds of one's own thinking would have lead to the conclusion that fixing a bug one hour before release might also only take five seconds (e.g. fixing wrong values in an array). Five Seconds Effort = Virtually $0 Costs
But the funniest thing was the map of the Brave New World (See on top of the page).
Greenland?
Synergized with India and therefore fired from the map.
Russia?
Annihilated from the map for not being certified, probably. Stepping over the eastern border of Finland, one would find oneself falling down the abyss of nothingness.
But my favorite area is the sudden phallic half-erected extension of a cloned Spain and France forcefully thrust deep into the Atlantic. Just makes me laugh my ass off.
All funny targets of sarcastic comments and ridicule, but I honestly sympathize with the people in this testing organization. Apparently devoid of being allowed to make their own decision, as the boss is always right and probably in constant fear that their job is being outsourced to India. That is not a fun place to work at.
The horror! The horror!