What Is the Secret Sauce that Made Let's Test Such a Great Conference?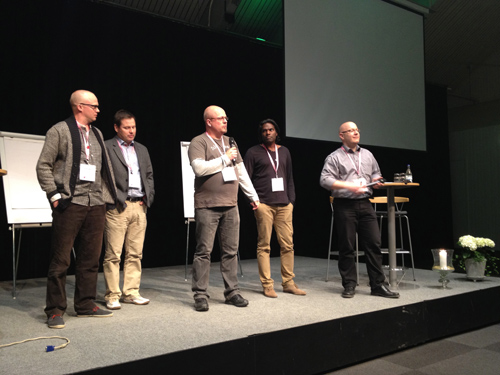 Many of us have put on weight during
Let's Test
because of a combination of fantastic nordic cuisine and an abundant availability of Swedish micro-brewery beers. For me it has been an overwhelming experience and I feel very privileged to have been part of the first Let's Test conference.
But, what is it that made it great? What's the secret sauce?
One approach could be to list elements such as:
fabulous location and facilities
good food
great beers
interesting sessions
format of the sessions with facilitated discussions
cool people
the nicely foldable program
perfect WIFI coverage
friendly approachable organizers
the sunny weather
Only that I don't think that explains anything. In order to perceive it as great, there must be something else. And I think it is the dynamics created by a combination of factors. Like a tasty sauce, it is the balanced combination of ingredients in interaction with each other, which makes it mouth-watering.
Many of us know each other on Twitter, we have had conversations on blogs and discussed stuff on a Skype chat. At Let's Test I have met many of my tester peers for the first time in person. There was already a lot I knew about these people. Some of them had sessions and my excitement about it was already great before they started. Also, during a session it was well possible to have e.g. my
BBST Foundations
instructor Ru Cindrea to the left and Anne-Marie Charrett, with whom I have discussed Skype coaching a lot, to the right.
Hence, it was like a family & friends gathering.
A unique aspect was the extensive evening program with art tours, test lab, social gathering, XBox games, free beer and a mind blowing band that played some sort of beautiful eastern style klezmerish music and had a violin player who made my jaw drop. Now, this was combined with having taken place in a room that looked like a massively oversized living room with candles on the tables. At the same time there were Oliver Vilson's metal and wood puzzle making turns among the people.
Hence, it was like a family & friends gathering.

Free beer can help to become sociable. The guy at the bar was a friendly tall Swede with a goatee and oversized earrings. I am no longer in my 20s, but Let's Test made me behave like one who is. Long, beer-saturated nights that created difficult mornings, where people were glancing at each other knowingly. Oh, man, what a laugh we had during the late night conversations.
Hence, it was like a family & friends gathering.
If you gather a group of people and everybody just wanders off after the sessions, then there is no soul to it. Runö is somewhere out in nowhere and it kept the whole group together. Interaction was inevitable. Wherever one walked there were people to meet. Smiling was a facial activity that was used extensively.
Hence, it was like a family & friends gathering.

Are there dangers for the future?
I guess there were roughly 150 people at this year's conference. Many of them will go back to where the come from and tell their friends and colleague about their positive experience at the conference. People following the #LetsTest hash tag on Twitter also mentally constructed their impression of the conference. They will all want to come to next year's conference. In my opinion the success of Let's Test may become a liability.
Why so?
I think that what I perceived as the soul of the conference - a friends & family gathering - may get lost if there were twice or three times more people. I am not sure if bigger is always better. The conference would suddenly become more anonymous and that could destroy the dynamics mentioned above.
How to avoid it?
Surprisingly there is a beautiful and straightforward solution to it: Do it at Runö again. Just checked
their website
and it says there are 228 beds, which quite effectively limits the number of participants.
Anyway: Ola, Henke, Henrik, Tobbe, Johan & all participants, I love you all for having made this conference possible. You guys rock, and hopefully see you next year.